IRIS FIRSTENBERG, PhD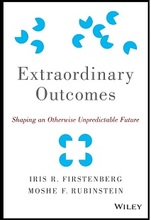 The latest book authored by Iris Firstenberg with Prof. Moshe Rubinstein
Extraordinary Outcomes:
Shaping an Otherwise Unpredictable Future
will help you navigate in a world of uncertainty and create extraordinary outcomes.
The framework is the result of research in multiple fields with examples from real-world situations that illustrate the concepts and dynamics at work. Learn to bring the future to the present in all aspects of your life, to lead yourself, your team, and your organization into the future. Available now at Amazon.com
---
Dr. Iris Firstenberg specializes in strategies for creative problem solving and innovative thinking. An Adjunct Professor, she teaches in the UCLA Anderson MBA programs, UCLA Anderson Executive Education programs, and the UCLA Department of Psychology.

In addition, she conducts custom on-site courses and seminars for organizations on the topics of creativity and innovation. Her sessions provide exciting, thought-provoking, and practical strategies to help turn creative ideas into innovative business solutions.

Dr. Firstenberg is the recipient of the 2002 UCLA Department of Psychology Faculty Distinguished Teaching Award and the 2011 UCLA Extension Distinguished Teaching Award.
---