BOOKS AND PUBLICATIONS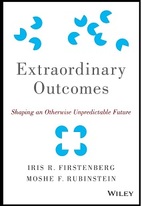 Steel your team against the unexpected by planning for uncertainty
Extraordinary Outcomes
presents an innovative approach to thinking and planning, giving leaders a playbook for dealing with uncertainty. The framework is the result of research in multiple fields with examples from real-world situations that illustrate the concepts and dynamics at work. The focus is on conquering uncertainty – eliminating it where possible, reducing it where it can be reduced, and embracing it when it's inevitable.
Learn why skills and talent are only two pieces of a bigger puzzle
Discover how to better galvanize a team, and keep people motivated
Connect to a purpose that inspires enthusiastic engagement
Conquer uncertainty, and develop a strategy for dealing with error
Extraordinary Outcomes
will help you establish a big-picture view of your organization and your purpose. The practical, day-to-day steps follow seamlessly as the book provides concrete strategies for building team alignment, encouraging positivity, creating agility, and learning from setbacks.
Extraordinary Outcomes
shows that adapting to an uncertain future might be just the thing we need to drive success.
Available now at Amazon.com
Available at Apple iBooks
Available at Barnes and Noble
Available at Google Play
---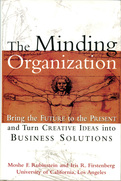 Co-authored with Professor Moshe F. Rubinstein, The Minding Organization is about creating an organization that behaves like a human being -instantly able to adapt to new and ever-changing conditions. In a minding organization, all of the parties involved in a project - whether it's developing a new product, streamlining a process, or changing a strategy - get together from the start to explore the issues. They bring insights up front that would normally be learned only later on, a kind of high-level connectedness that is the hallmark of the minding organization and the surest way to gain competitive advantage; the goal of a minding organization is to adapt so readily that it innovates before its competitors do.
---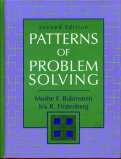 Patterns of Problem Solving provides the reader with tools and concepts that are most productive in problem solving and are least likely to be eroded with the passage of time. Emphasis is placed on developing the proper attitudes for dealing with complexity and uncertainty. A balance is sought between solution techniques and attributes of human problem solvers, so that problem solving is not reduced to a dogmatic and sterile process. To maintain this balance, human values are considered wherever feasible. Problem solving is presented as a dynamic process, encompassing diverse academic disciplines.

---
Praise for the book The Minding Organization

"The authors…..give strategic thinkers the tools they need to turn perceived liabilities – chaos, disorder, unpredictable change – into assets. I've made it must reading for everyone in my organization. The only people I haven't recommended it to are my competitors."
Timothy W. Hannemann, Executive Vice President and General Manager, TRW

"….The Minding Organization is a well written guide that is must reading for anyone responsible for minding the organization."
Norman Augustine, Chairman of the Executive Committee, Lockheed Martin

"…The Minding Organization transcends time and theory, enabling the practice of innovation as an everyday occurrence."
Stephan Argent, Creative Director, iCandy Inc.

"The precepts in The Minding Organization direct organizations to be creative and innovative, words that characterize the authors themselves. This is a practical management book by authors with remarkable insights into organizations, into human behavior, and their applications to business.
Professor Victor Tabbush, Senior Associate Dean, The Anderson School, UCLA

"Rubinstein and Firstenberg are to 21st century organizations what Einstein and Heisenberg were to 20th century physics. They reframe the organizational paradigm. In so doing, they provide compelling insights for embedding innovation and adaptation into organizational culture and structure – a necessary survival formula for the superheated years ahead."
Ambassador Jon D. Glassman

=====================================================================================
Firstenberg, I. and Rubinstein, M. Extraordinary Outcomes: Shaping an Otherwise Unpredictable Future. John Wiley & Sons, 2014.

Rubinstein, M. and Firstenberg, I. The Minding Organization. John Wiley & Sons, 1999.

Rubinstein, M. and Firstenberg, I. Instructors and Solution Manual for Patterns of Problem Solving. Englewood Cliffs: Prentice-Hall, 1996.

Rubinstein, M. and Firstenberg, I. Patterns of Problem Solving. Englewood Cliffs: Prentice-Hall, 528 pages, 1995.

Rubinstein, M. and Firstenberg, I. Tools for Thinking. In J.E. Stice (ed.). Developing Critical Thinking and Problem Solving Abilities. New Directions for Teaching and Learning, #30, San Francisco: Jossey-Bass, 1987.

Firstenberg, Iris. Memory Dynamics and Marketing Principles, 1985, UCLA Report.

Firstenberg, Iris. Memory Dynamics, 1985, UCLA Report.

Geiselman, R., Fisher, R., and Firstenberg, I., Enhancement of Eyewitness Memory: An Empirical Evaluation of the Cognitive Interview. Journal of Police Science and Administration, Vol. 12 #1, pp. 74-80, 1984.

Firstenberg, Iris. The Role of Retrieval Variability in the Interrogation of Human Memory, 1983, UCLA Report.