BIOGRAPHY AND AFFILIATIONS



EDUCATION

Ph.D. 1983 Cognitive Psychology, UCLA
M.A. 1981 Cognitive Psychology, UCLA
B.A. 1978 Linguistics and Psychology, UCLA


TEACHING

UCLA ANDERSON SCHOOL of MANAGEMENT:
2004 – present Adjunct Associate Professor, MBA programs
1997 – present Faculty and co-director "Creativity and Innovation in the Organization" for executives,
one week annual program
1996 – present Faculty, UCLA Anderson School of Management, Executive Education programs
UCLA DEPARTMENT OF PSYCHOLOGY
2016 - present Adjunct Professor
2000 – 2016 Adjunct Associate Professor
1998 - 2000 Adjunct Assistant Professor
1983 - 1998 Lecturer
ADDITIONAL TEACHING
2011 - present Faculty, Police Officers Command College
2009 - present Faculty, Institute for Management Studies
2006 - present Faculty, Smith College Executive Education Programs for Women
2004 - present Faculty, Sun Yat Sen University (China) Executive MBA program
2000 - 2009 Faculty, SHRM Academy -Society for Human Resource Management
1999 - 2005 Faculty, Los Alamos National Labs Leadership Programs and Lawrence Livermore National
Labs Leadership Programs
1998 - 2003 Faculty, UC Riverside Advanced Management Programs
1996 - 2013 Faculty, UCLA Technical Management Program
1993 - 1997 Faculty, Judicial Council of California Leadership Program

TEACHING AWARDS
2012 Police Officers Command College Distinguished Teaching Award
2011 UCLA Extension Distinguished Teaching Award
2002 UCLA Psychology Department Distinguished Teaching Award.


CONSULTING

Leadership, Creativity, and Innovation
Seminars for a wide range of industries including finance, medical, defense, aerospace, software,
utilities, entertainment, and government.
---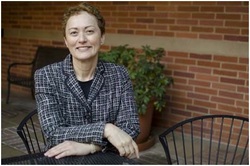 UCLA DAILY BRUIN
January 28, 2014
The business of storytelling: Professor Iris Firstenberg teaches strategies through seminars
Firstenberg, a cognitive psychology and management organization
professor at the Anderson School of Management, teaches effective
business techniques through storytelling. Firstenberg recieved her
undergraduate and graduate degrees at UCLA.
BY
KELLY GU
For Iris Firstenberg, storytelling is a family business.
At the age of 3, she listened to her father teach moral lessons through stories and watched him write numerous engineering books on problem solving, developing her passion for both speaking and writing at an early age.
Firstenberg, now a cognitive psychology and management and organizations professor at the Anderson School of Management, passes her passion for storytelling onto her students.
The UCLA alumna draws from a variety of books and her experience with telling narratives to teach her students and business professionals how to be creative and collaborate with each other through storytelling.
"I don't want to do a data dump, I want to have a conversation," said Firstenberg. "I tell lots of stories because I think storytelling is our native language."
Firstenberg often tells a story about a cement company in the '90s that wasn't faring well with a 30 percent successful delivery rate. They eventually turned to other companies such as FedEx and Domino's to learn how to make delivery more efficient, ending up with about an 80 percent success rate.
She uses this example to illustrate the concept that pinpointing the problem and reaching out to others not even related to your field can prove beneficial, Firstenberg said.
With similar stories, Firstenberg conducts seminars with various organizations such as Bank of America, IBM and NASA, on certain strategies to help them improve as companies and come up with creative business solutions.
"I realized that what we really needed to conquer is dealing with the uncertainty of the future," Firstenberg said. "How do we make plans today, in the present, for an uncertain future?"
Firstenberg conducts discussions in small and large groups with company employees to generate solutions for their problems that include topics such as inefficiency.
In the past, Firstenberg and her father, Moshe Rubinstein, an engineering professor emeritus at UCLA, often taught companies together and shared stories with each other to develop models and strategies.
"Stories are the agents of human translation," Rubinstein said. "Me and Iris, we are storytellers."
However, it took Firstenberg some time and adjustment before discovering how to turn her love of stories into a career.
Firstenberg studied psycholinguistics as an undergraduate and cognitive psychology and management as a graduate student.
For three months after graduating UCLA, she said she felt trapped in her first job at an equipment design company and eventually decided the job wasn't for her.
After she quit, Firstenberg started developing the idea of "bringing the future to the present" – her phrase for a strategy of flexibility and adaptation in the case of unexpected events occurring.
This strategy is now the focus of her most recent book called "Conquering Uncertainty: Bringing the Future to the Present,"
which is estimated to be released later this year.
Her studies at UCLA piqued her interest in organizational thinking and how multiple minds collaborate. Most of all, she wanted to know how organizations achieved value.
When she became a professor at UCLA, she created a course at the Anderson School of Management called "Thinking On Your Feet" to teach students how to work collaboratively.
Her lessons in collaboration have helped many of her students apply thinking methods to their career work in the business world.
Matt Gorlick, associate director of MBA admissions and a UCLA alumnus, has taken Firstenberg's class and served as a teaching assistant for the class this past summer.
Gorlick said he applies the concepts they learned to real life situations by looking back at the notes he took.
Gorlick said Firstenberg often used a story about a company reconstructing part of the 10 freeway after the Northridge earthquake in a much shorter time than expected to demonstrate multiple concepts, such as approaching problems from a different angle.
"I wanted to see how I could use all these concepts to help me get through," Gorlick said, after explaining that he often found the strategies she taught through storytelling applicable to the real life problems he had.
Firstenberg said she tries to stay as current as possible when it comes to telling stories to illustrate personal application of her strategies.
To put her storytelling on paper, she co-writes books.
"If I'm not teaching, and if I'm not in an organization sharing ideas, I am writing," Firstenberg said, smiling. "Writing is a labor of love. I really love the process."
Firstenberg has co-authored two books with her father and is currently working on a third.
Armed with her love for stories and writing, Firstenberg said she aims to continue helping both companies and students.
"I think every person has to find some meaning in their life that is personal to them," she said. "And to me, helping people think differently and helping them create value in their own lives through better thinking strategies is what excites me."
---